June 13, 2016
International Council of Beverages Associations Launches Asia Pacific Regional Group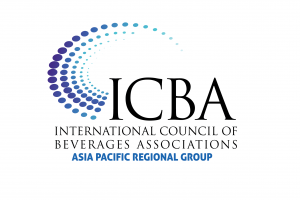 Today the International Council of Beverages Associations issued the following statement regarding its newly-formed Asia Pacific Regional Group:
"The ICBA is pleased to announce the creation of its Asia Pacific Regional Group, which officially launched at the 2016 ausdrinks Regional Beverages Summit in Sydney, Australia this March. Given the increasing opportunities and challenges within this region of great importance to the global beverage industry, this exciting initiative will encourage greater alignment and coordination on priority issues" said Ms Kate Loatman, ICBA's Executive Director.
"The Asia Pacific Regional Group will enhance the reach of ICBA by providing hands-on support to beverage associations in the region while leveraging existing resources within associations and building on relationships with key allies.
The Regional Group will initially be coordinated out of the Australian Beverages Council's offices in Sydney Australia, with their CEO, Geoff Parker, operating as the Regional Director for the Asia Pacific Group.
"We believe that this Regional Group is an important opportunity for our industry to work together in a strategic and efficient fashion to face growing challenges, and embrace opportunities" said Mr Parker.
Membership will span the western Pacific Rim and Southeast Asia, and will provide a forum for beverage associations in Australia, China, Cambodia, Hong Kong, India, Indonesia, Japan, Laos, Malaysia, Myanmar, New Zealand, Papua New Guinea, Philippines, Singapore, Sri Lanka, South Korea, Taiwan, Thailand and Vietnam."
For more information go to www.icba-net.org or contact Geoff Parker, Asia Pacific Regional Director on +61 407646195 or geoff@icba-net.org.
# # #
The International Council of Beverages Associations (ICBA) is an international nongovernmental organization established in 1995 that represents the interests of the worldwide non-alcoholic beverage industry.